Happy Wednesday! I know that typically I don't like Wednesdays but I don't have gym today at school so that's a bonus.
There are many amazing releases this October and I feel like I'm being so bombarded with new books that I'm too happy to even start waiting on more. However, there are also some November releases that I'm highly anticipated, so I thought that I would share one of those books, and then we don't even have to wait that long!
soundless by richelle mead
From Ri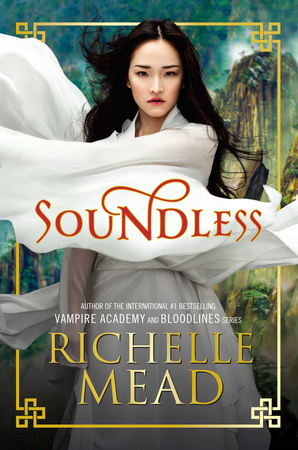 chelle Mead, the #1 internationally bestselling author of Vampire Academy and Bloodlines, comes a breathtaking new fantasy steeped in Chinese folklore.
For as long as Fei can remember, there has been no sound in her village, where rocky terrain and frequent avalanches prevent residents from self-sustaining. Fei and her people are at the mercy of a zipline that carries food up the treacherous cliffs from Beiguo, a mysterious faraway kingdom.
When villagers begin to lose their sight, deliveries from the zipline shrink and many go hungry. Fei's home, the people she loves, and her entire existence is plunged into crisis, under threat of darkness and starvation.
But soon Fei is awoken in the night by a searing noise, and sound becomes her weapon.
Richelle Mead takes readers on a triumphant journey from the peak of Fei's jagged mountain village to the valley of Beiugo, where a startling truth and an unlikely romance will change her life forever…
Release: November 10, 2015 by Penguin Young Reader's Group
Description: Stand-alone YA fantasy
Pages: 272
Barnes and Noble          Goodreads          Amazon          IndieBound
So I'm pretty sure that everyone has heard of this book by now because of people bringing it home from BEA and, duh, it's Richelle Mead. I think I would probably be more excited about this, obviously, if I had enjoyed the Vampire Academy series more than I did. While I had my issues with it, I think that was mainly just because I tried to marathon them and got completely sick of vampires. Either way, this premise is a lot more appealing to me.
I think it's a really interesting idea to try and tell a story in a world where there's no sound. It's kind of the opposite of Patrick Ness's The Knife of Never Letting Go, where the world is filled with never-ending sound and then all of a sudden the main character enters a place of dead silent. It'll be really interesting to read a narrative that will have no description of sound and probably not much dialogue if I'm interpreting the situation correctly. It's so hard to imagine a world without sound. I don't know how I would be able to write a blog post without the noise of keys tapping and Sam Smith playing in my  headphones.
I'm really interested to see if everyone is deaf in this book or if nothing makes noise. I kind of hope it's the latter because that would make for incredibly fascinating world-building opportunities. Also, how the heck is there going to be a romance when no one can talk to each other or hear anything?
I silently slid the note across the table to him.
"Blink if you love me," it read.
I watched his eyes flick across the words, and then he looked up at me, staring for a long time. His eyes started watering, turning slightly red, before they quickly shut and opened again.
My heart rate picked up. I knew this was going to be the start of a beautiful relationship. 
The ARC reviews of this book haven't been amazing from what I've seen, but as always I'm hoping to see for myself. Obviously this book isn't going to be my number one priority on November 10, and if you don't know why, welcome to my blog! You must be new here. (P.S.: 26 days until Winter!)
---
That was my Waiting on Wednesday for this week! Are you anticipating this book? I'd love to know in the comments. Also be sure to let me know if you made a Waiting on Wednesday post today so that I can check it out and find even more books to be excited for.
Thanks for reading! 🙂