Hey guys! I'm back from that little weekend camp and also back to posting! This is the fourth Match Made in Mondays post now, and I'm really excited that I've managed to stick with it this long. Who would've thought?
If you don't already know, Match Made in Mondays is a weekly book meme that I created here on Forwards and Bookwords. You can read the full explanation what exactly this meme is and how you can participate here. The short version is that basically we're matching up things that, in your mind, would be a perfect pairing. Each week there's a topic and you fill in the bolded words to create the pairing that you believe is the best. This week's theme is:
me + an advanced reader's copy of this book = a match made in mondays
This topic probably feels a little similar to people who, like me, participate in the Waiting on Wednesday meme as well. However, I think this is slightly different. This particular book couldn't be featured in a Waiting on Wednesday because you're not willing to wait for it. This book is the one book, out of all of them, that you need in your life right now.
I think you all know what book is coming. I would try to mix it up on you, but it's Monday and everyone is too tired to be thrown a curve ball. It's Winter by Marissa Meyer.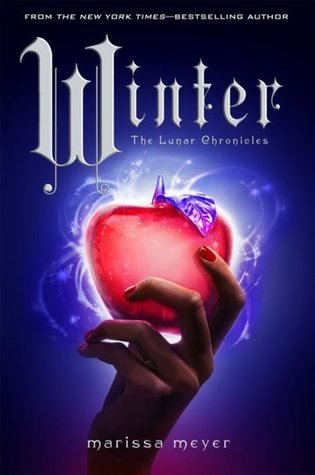 Maybe I'm kind of a hypocrite for saying that this post is different from a Waiting on Wednesday when I also featured this book in my very first Waiting on Wednesday, but can you blame me? I was brand new to the blogging world and the Lunar Chronicles were the only thing I could cling to and obsess over and sound relatable about. I guess not much has changed.
One reason that I don't want to wait for this book (besides the fact that it's Winter and why the heck would I want to wait?) is because how cool would it be to get an ARC of what is sure to become one of my favorite books? I would, of course, still buying a finished copy on the release date, but having an ARC would certainly be an exciting collector's item.
Unfortunately, the publisher's aren't making ARCs for this book (trust me, I would be doing everything I could to get one if they were). I'm guessing the publishers knew that they wouldn't have to do too much to try and get the world out there about this book because they already have obsessive fans like me who rave about it literally every other day. Oh well.
---
So that's the end of this week's Match Made in Mondays. I know it was a shorter response for me this time, but I've mentioned the Lunar Chronicles so many times that I didn't want to get too repetitive in my excitement.
As always, I'd love to hear your thoughts on my thoughts in this post, what your own response would be, any ideas you'd like to see as topics in future MMiMs, or if you've participated this week! I'm going to start linking to participants' response posts from one week in my post for the next week, if that makes any sense, so that you can easily access other people's posts and thoughts.
Thanks for reading! 🙂